List of best low cost gaming laptops for gamers on a budget with pros and cons compared. Easily pick the best budget gaming laptop that suits your need. HP PAVILION GAMING 15 vs LENOVO LEGION Y540 vs ACER NITRO 5 vs MSI GL65 9SCK vs ACER PREDATOR HELIOS 300
How do you know what a "real" gaming laptop is? We consider a laptop to be a true gaming machine if it has a discrete graphics chip (aka "GPU") rather than an integrated graphics card. For us – and for the laptop vendors – this is a clear distinction that separates the real player from the claimant.
In a way, almost any new laptop can work like a gaming laptop. Modern general-purpose laptops with 8th and 9th Gen Intel i5 and Core i7 processors (10th Gen chips are no longer available, but mostly found in gaming laptops from the outset), and AMD Ryzen processors can be reasonably played with basic games, if it is enough to roll back the screen resolution and graphical detail of the settings. These chips have modest graphics acceleration, which is enough for casual or web games like Plants vs. Zombies ".
We'll assume you want to do more than collect potato mines. Chances are, you can't wait to play the latest AAA games: the newest edition of the Battlefield series, the latest Tom Clancy, the newest Tomb Raider or Far Cry. Or you want to play the latest mega popular online games Fortnite, Apex Legends, Valorant at the highest possible frame rate supported by your gaming laptop display. This is where the dedicated graphics chip comes in. This is the starting point for getting serious about laptop gaming.
If you want to play all games with high details and the highest possible screen resolution (for most laptops this is 1920 x 1080 pixels, provided that you are playing on a laptop screen and not on an external display), you have to shell out a rather big sum, especially if you want this laptop to remain viable at these settings for over a couple of years. Such a high end and future reference requires a high quality GPU: Nvidia's GeForce RTX 2070 Super or RTX 2080 Super are the latest and greatest of mobile GPUs. This means that at current prices, a gaming laptop will cost $ 1,500 or more.
However, times have changed. With small compromises, you can enjoy very decent 1080p gaming on machines, a notch or two lower than the GeForce RTX elite. Budget gaming laptops are now a established category, not a stand-alone one, and are accepted by most gamers.
---
ACER PREDATOR HELIOS 300
THE BEST RATIO OF PRICE AND QUALITY
Display: 15.6 ″, 1920 × 1080 pixels, IPS
Screen refresh rate: 144 Hz
Video card: NVIDIA GeForce GTX 1660 Ti
Graphics memory: 6 GB, GDDR6
CPU: Intel Core i7-9750H, 2.6 GHz
RAM: 16 GB DDR4
Storage device: SSD M.2, 512 GB
OS: Linux
Weight: 2.4 kg
Without skimping on build quality or functionality, the Acer Predator Helios 300 delivers excellent performance and performs like a more expensive machine. It is a smart choice for low-cost gaming laptops.
The Helios 300 provides an acceptable display with useful gaming features. Visually, the picture is quite good, with good sharpness and colors, no more and no less. This is roughly what you'd expect from an average laptop. Matte finish reduces irritating reflectivity. Gamepad with a high refresh rate of 144Hz and a response time of 3ms.
Last but not least for the physical build: the keyboard and touchpad. Both are surprisingly good, especially the keyboard. It has a balanced number of keystrokes with a satisfying bounce. The model in question has RGB backlighting.
The Helios 300 is well-equipped with ports, a bit of everything, and it's all practical. There are three USB 3.0 ports, an Ethernet jack and headset jack, Type-C USB 3.1, a Mini DisplayPort, and a full-sized HDMI output.
Simply put: the Acer Predator Helios 300 is of excellent quality. The build and design are solid enough, but performance is key. It relies heavily on the GeForce GTX 1660 Ti, and Acer's price tag on this model makes it stand out. The only real drawbacks are storage capacity (increasing SSD capacity dramatically increases the cost of a machine) and battery life, but both depend on how you use your computer.
---
MSI GL65 9SCK
A GOOD LAPTOP FOR GAMING WITH A QUALITY DISPLAY
The MSI GL65 is a value-oriented gaming laptop with all the bells and whistles. The hardware on this 15.6-inch machine for the same money will be just as good 1 year later too: a 4GB Nvidia GeForce GTX 1650 graphics card, a fast Intel Core i5 quad-core processor, and a generous 512GB SSD. The whole package is complemented by a vibrant Full HD display (1920 x 1080 pixels), making the GL65 a good example of entry-level gaming laptops and a great choice for budget gaming laptops.
The 1080p resolution is ideal for gaming with a GeForce GTX 1650 graphics card, and games come to life with bright and colorful pictures, wide viewing angles and anti-glare display surfaces. 120Hz panel refresh rate, GTX 1650 is unlikely to reach above 60fps. second in modern games, except perhaps for some less demanding esports games.
Good selection of ports: Ethernet connector; HDMI and mini DisplayPort video outputs; USB 3.1 Type-A and Type-C ports and separate headphone and microphone jacks. The MSI GL65 9SCK can play the latest 1080p games with decent picture quality settings. A bright screen and a comfortable backlit keyboard complete the package. It even has aluminum in its design – a bonus that its plastic competitors don't have.
The downsides are few and far between: the laptop speakers could have been better, the touchpad buttons are noisy, and some ports are not perfectly positioned. The GL65 manages to be inexpensive without sacrificing the necessary parameters.
---
ACER NITRO 5
BUDGET LAPTOP WITH 17 " SCREEN

The Acer Aspire Nitro 5 is a balanced package at a reasonable price. The combination of a Coffee Lake processor (Intel Core i5-9300H) with a Turing GPU (NVIDIA GeForce GTX 1650) will run through almost all applications with ease, unless you go overboard with QHD or UHD resolution and extremely high graphics settings. We also liked the inclusion of a fast M.2 SSD.
By far the biggest highlight of the Nitro 5, however, is its battery life. The device is perfect for those who want to play on the move. Plus, it's even better for those who want to do more of their day-to-day tasks like responding to emails and browsing the web without being chained to an electrical outlet.
The Acer Aspire Nitro 5 is excellent value for money, although it suffers from several trade-offs and shortcomings.
The compact design and quality of the input devices are decent for the money. However, Acer needs to improve on the Nitro 5 in order to achieve a higher overall rating. First, the speakers aren't the best, and neither is the display. Moreover, the port selection is rather poor and outdated; we expected to see at least one Thunderbolt 3 port and card reader in 2019. The speakers in the Nitro 5 are not very loud. There is almost no bass, but you can make out overlapping tracks (although drums and guitars tend to overpower vocals). Waves MaxxAudio Utility offers presets for music, games, movies and voice, as well as an equalizer. The Acer Nitro 5 gaming laptop can deliver acceptable 1080p gameplay on a 17.3-inch display. Display brightness is pretty good, but not great. The display is clear enough with good contrast and wide viewing angles. The screen is probably the most economical aspect of this inexpensive model, but satisfying. In terms of ports, you'll find: USB 3.1 Type-A and one USB 3.1 Type-C port, as well as HDMI and Ethernet ports and a security lock slot, a USB 2.0 port, an audio jack.
But these weak points shouldn't put you off. Acer Nitro 5 is a good gaming laptop for your money.
---
LENOVO LEGION Y540
HIGH PERFORMANCE GAMING LAPTOP
The Legion Y540 is a technology update to the 2018 Legion Y530 . It sits in line with the 15-inch Lenovo Legion Y545 , which debuted in early 2020, which is mostly different in design, while with the Y540 it shares the same specs, prices and even port locations.
Powered by a six-core Core i7-9750H chip and a GTX 1660 Ti graphics card, this 15.6 " laptop delivers excellent gaming performance at its native 1080p screen resolution, which matches or even slightly surpasses the 2019 Acer Predator Helios 300. The Legion Y540 offers good build quality and features. It does have its quirks, like mediocre battery life, no SD card reader, no Thunderbolt 3, but these aren't likely to be big drawbacks. All in all, this is a very good mid-range gaming laptop that can maintain its potential for a long time thanks to its decent cooling system.
Lenovo allows you to install custom hardware in the Legion Y540, so you're not limited to pre-configured models. (Lenovo has plenty, though.) We're looking at a model that is reasonably equipped with 16GB of RAM, a 256GB solid state drive (SSD) for the Windows 10 operating system, and a 1TB hard disk drive (HDD) for storage. In our opinion, it would be a big plus to use a 512 GB SSD without HDD, especially since there is the possibility of adding M.2 solid-state drives.
For graphics, Lenovo in this model offers a GeForce GTX 1660 Ti 6 GB video card and in the top versions – a GeForce RTX 2060. The GeForce GTX 1660 Ti is powerful enough to play all modern games with triple A in 1080p resolution at high settings without any problems. While the Turing card doesn't support DLSS or ray tracing like the RTX 2060, the latter isn't powerful enough to take full advantage of these new technologies, so don't miss out on the opportunity by opting for the GTX 1660 Ti over the RTX 2060.
The Y540-15IRH is one of the quietest gaming laptops around. Lenovo equips the Y540-15IRH with good stereo speakers. Bass tones are underrepresented, but this is a problem in almost all laptops. We still recommend using external audio equipment where possible, be it headphones or speakers. They can be connected via 3.5mm jack or Bluetooth, both of which work great.
---
HP PAVILION GAMING 15
BEST FOR MID-BUDGET GAMERS
Inexpensive gaming laptops keep getting better and better. The Dell G7 and Acer Helios 300 are proof of this theory, and OEMs like HP are looking to improve their entry-level gaming laptops. The Pavilion Gaming 15 has the internals of a Core i5-9300H / GTX 1650 laptop that are usually found in this price range. A 144Hz display, 8GB of RAM, and a 512GB M.2 SSD complete the specs.
The build quality is good. The Pavilion Gaming 15 has a good selection of ports, including one USB Type-C port. Unfortunately Thunderbolt 3 is missing. This limits the capabilities of peripheral devices, especially for external displays; HDMI 1.4 is the only connection for a monitor. The Pavilion Gaming 15 keyboard is excellent. The response is quick and the response is clear. The keyboard extends over almost the entire deck, which provides ample space for keys and makes typing easier and easier.
AU Optronics' Full HD display with 144Hz refresh rate boasts fast response times and smooth movement. The display does not support G-Sync. Black looks deep and colors are well defined. PWM is completely absent. This, combined with good color gamut and accuracy, makes it one of the best displays in the mid-range gaming market. Thanks to the IPS panel, the viewing angles are good. Anti-reflective coating and bright backlighting make it suitable for outdoor use. Direct sunlight makes the display a little blurry, but the screen is fully visible in shade or cloudy sky.
---
XIAOMI MI GAMING LAPTOP
A POWERFUL AND STYLISH GAMING LAPTOP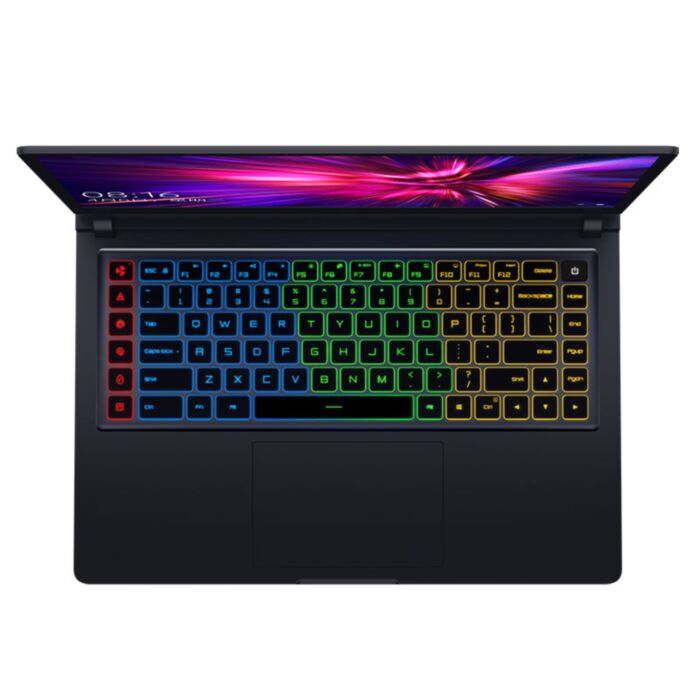 There are three different models of the 2019 Xiaomi Mi Gaming Laptop on sale. The base model is equipped with a Core i5-9300H processor with 8GB of RAM, the mid-range model is based on the Core i7-9750H with 16GB of RAM and the flagship model is equipped with a GeForce RTX 2060 graphics card instead of a GeForce GTX 1660 Ti. The latter may not be much slower than the former, but it lacks ray tracing. All devices have a 144Hz IPS FHD display and 512GB NVMe SSD.
The case is definitely one of the features. The Mi Gaming gaming laptop looks very elegant and timeless with its modest visuals. In terms of quality, the case also makes a good impression. Although the base unit is made only of plastic, thanks to the high quality workmanship and convincing capitalism, you might think that the laptop has a solid aluminum case. The lid is made of metal and is surprisingly sturdy for a laptop, despite the relatively thin bezel. To keep the price as low as possible, the manufacturer made cost reductions in connections. Thus, buyers are forced to dispense with a Thunderbolt-3 port, Kensington lock, and a dedicated DisplayPort.
From a gamer's point of view, a Full HD display with a current frequency of 144 Hz and a response time of 8.8-12 ms can be called optimal. This should make the image free of ghosting and artifacts even when playing fast-paced shooters. Xiaomi chose not to include support for G-Sync, most likely a cost-cutting measure (re-pricing of licenses). Instead, the Mi Gaming laptop supports Optimus to extend battery life. For a gaming laptop, the color space is decent too.
A six-core processor paired with a GTX 1660 Ti, 512GB SSD and 16GB RAM will provide more than enough performance for gaming and other tasks for years to come.
System noise under load is the biggest drawback of the Mi Gaming laptop. On the other hand, fast-rotating fans have a positive effect on internal temperatures.